Originating in China, sushi has become very popular over the last few decades. Quality sushi is made from the finest ingredients and is very delicious. Why not make it also sexy? Book one of our body sushi girls and make it just that, sexy and delicious. 
The process of nyotaimori is very simple, order your sushi and when you arrive at your destination there will be one of our sexy models on the table, fully naked, and sushi is carefully placed on sanitary leaves. You are free to pick up sushi with your chopsticks, however, we challenge you to use no hands and no chopsticks to spice up the fun. 
Be advised that our models have to lay there as still as possible and therefore we do not advise talking to them or making funny gestures. If you are in a very "touching" mood, feel free to also book one or more of our beautiful party girls to go along with you to make it even sexier and spice up the fun.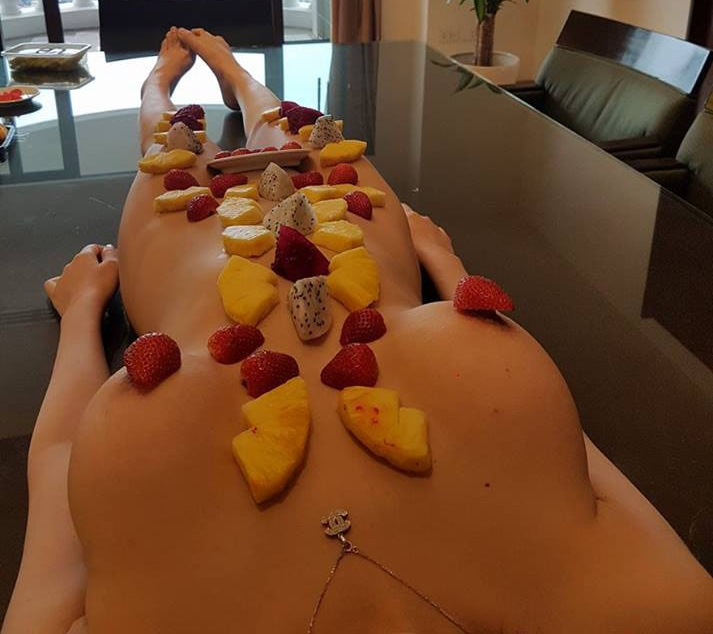 Body Sushi Girls For A Bachelor Party
Bachelor parties are the last bit of freedom a guy has before he commits to someone he loves for life. This party should be one of his best memories. Along with our sexy strippers and beautiful party girls, we also recommend booking one or more of our body sushi girls. 
Nyotaimori is a very unique event that most people have never even heard of outside of Japan. It is only offered in a handful of countries, that makes it a very rare experience that should be taken advantage of. 
Imagine the look on everyone's faces when they are expecting delicious sushi, walk into a room and there is not only sushi, but a girl laying naked on the table covered in sushi. That would be the last thing that they expect and is guaranteed to spice up any bachelor party.
Body Sushi Girls
In A Private Room
Not every company meeting has to be boring. Impress your colleagues with nyotaimori and make any lunch meeting more interesting. 
Picture you and co-workers in a restaurant in a private room drinking sake and enjoying delicious sushi while looking at the beautiful body of one of our models. 
Nyotaimori can be an intimidating experience for some people, however, once people get comfortable, you are guaranteed to have an unforgettable experience. 
Company meetings can be a bit of a hassle, make the right call by booking one of our body sushi girls, it will be the best decision that you make that day.
Quality Food With
Body Sushi Girls
Nyotaimori body sushi can be very fun and extremely sexy, however, we also take into account that at the end of the day, you also want it to be a delicious meal. 
That is why we make sure we have quality ingredients and great sushi chefs preparing your sushi for a truly satisfying experience. 
For people who do not eat fish, we also are available to prepare a vegetarian or fruit option so that everyone can join in on this unique experience.
Best Nyotaimori Body
Sushi In Thailand
Nyotaimori body sushi is a unique experience that you will not be able to experience all across the world. It is something that should be taken advantage of while you are in Thailand. 
Book a body sushi girl for a bachelor party to really spicy things up or book her for a company meeting to impress your boss. Either way, it is a great way to make sushi very sexy. 
All of our models have quality bodies that are guaranteed to impress anyone. Our sushi chefs are well trained experts who will supply you with the best quality sushi possible to make it an overall, unforgettable experience.